a desert race ... a rock ... a broken hanger ... a singlespeed mtb
In February 2008, I travelled out to Arizona with my husband Roy, to celebrate his 50th birthday at the 24 Hours in the Old Pueblo mountain bike race. We were still fairly new to the mountain biking having started only 4 years earlier, but it was a great opportunity to combine a sport we getting to enjoy with a trip to our favourite US state and some of excellent craft beer. Our accommodation, as always, was carefully chosen to be located near to the local brewpub where good beer and food is guaranteed.
But back to the story ...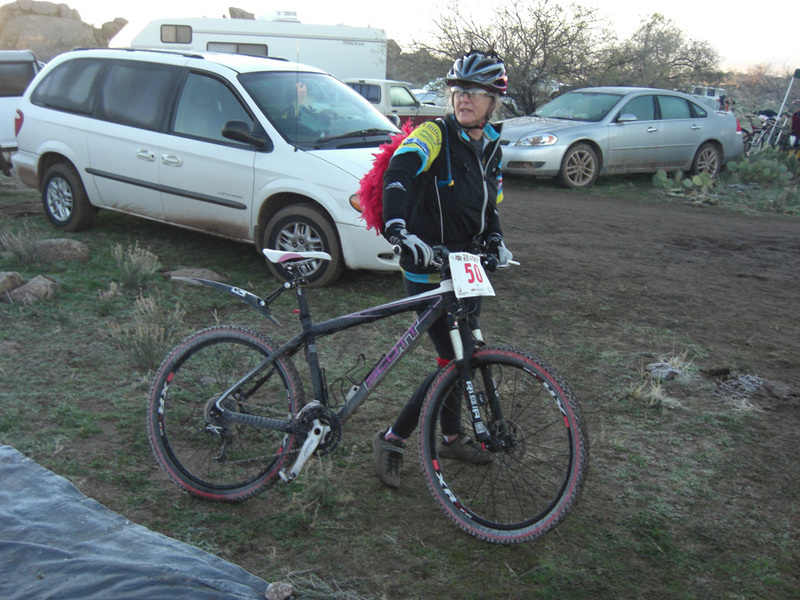 The race course was fantastic - 16 mile laps made up of a combination of singletrack, doubletrack, cactus, rocks and a series of 'bumps' called the Bitches! A combination of 2 of these were my downfall. The most obvious might have been the teddy bear cholla which just jump off the plant for no reason onto the singletrack (or more likely kicked off by the rider ahead) but it wasn't.
I don't remember doing it but I must had clipped the rear of my bike on a rock at the end of a lap but the problem was not obvious until I headed back out again.
Upon climbing up one of the Bitches (at about 1 mile into the lap), I was too aggressive with a gear change leading to the chain wrapping itself around the deraileur and bending the hanger. No problem - I had a spare hanger! But, rookie error, it was in Roy's pack and I had his spare. Finding a suitable rock and hitting the hanger with it had little or no effect but, thanks to the assistance of a fellow competitor, my 27-geared bike was down to just the single gear.
Pack it in, Pack it out! I stuffed everything back into my pack and got onto the bike. I instantly tried to shift gear! DOH! I wondered if everyone did that in my situation. I had 15 miles left to go on the lap - I was not going to break any lap records and I didn't.

A week later, we returned to the UK and I had the broken chain as a momento of our trip. But what to do with it - an idea began to form. I split the chain up into its individual links, cleaned and plated then. I made some of them into a bracelet and attached charms that reminded me of the holiday.

I included some turquoise as this is the state gemstone of Arizona - zuni bear, saguaro cactus and a feather. The gekko reminded me that none were harmed in the making of the holiday. And of course the beer tankard in honour of the craft beers that had quenched my desert thirst.

And so an idea was born...