Pivot Twentyfour12 2018: Beer, Bikes, Friends, Fun & some EPIC Weather (again)
Posted on
Change can sometimes be daunting, with Matt Williams & Paul Davis (IcklePaul) taking over the Twentyfour12 brand, but on this occasion we knew there would be nothing to worry about. The only hiccup was when Matt posted up a course map with just about every trail & climb in Newnham Park on it, I thought to myself well I'll have 1 lap in me but no more !!!
Being more involved this year we set off from home at 5.20am on the Thursday & got down in one hit in just under 4hrs, amazing. Checked in with the boys & set about pitching the Beerbabe stand & tent in glorious weather. Mid afternoon Mike & Karen Lunney from Dartmoor Brewery, our generous beer sponsors arrived with their branded E-Z UP & beer, which being Real Ale needed to settle for 24 hours.
Late afternoon the kids arrived, as we like to call them, Jolien Kommers & Martijn Driedonks had brought Jasper Lub of Lakebike24 fame with them, thus increasing the Dutch contingent by 50% for 2018. They pitched & then we set about chilling & catching up on all sorts of things #lifeisgood
Friday was to be the inaugural Jail Ale Ride to Dartmoor Brewery in Princetown the other side of the Moor. I was asked to sort of put this together even though I live 250 miles away & have no knowledge of the area because of my beer connections. We left Newnham Park via the Mach Attack Climb & the Paintball Woods & headed into some tricky singletrack in Camm Woods before hooking up with the old railway line, now a cycle route & then hitting Dartmoor itself for some amazing views & long mofo climbs.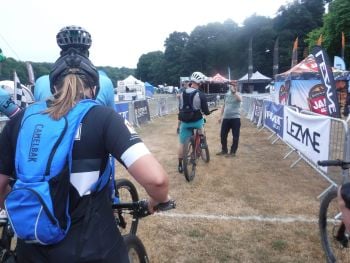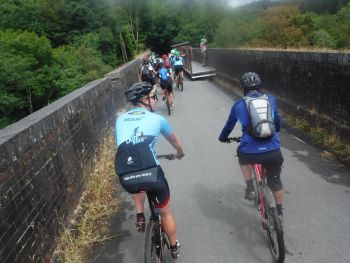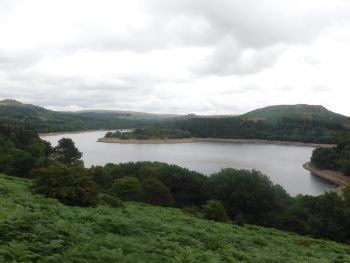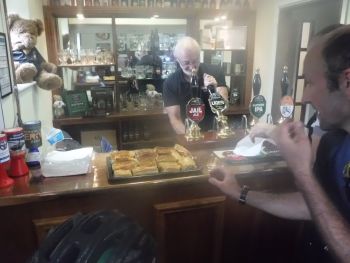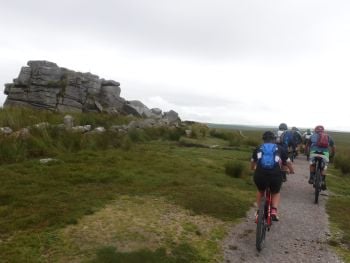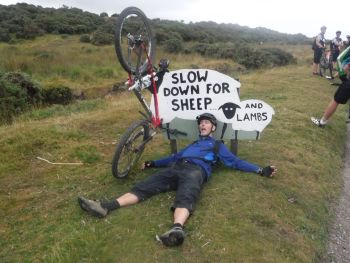 3 EPIC hours later we rolled into the brewery in Princetown for much needed beer & sausage rolls. Will from Singletrack went live for a while before we set off for the eventful return. Trying not to loose to much height we had to by-pass some well known trails such as Widow Maker as we were running very late. Unfortunately on a very long fast decent I was following Les one of our local guides & Colin from Exposure Lights #ownthenight when 3 sheep appeared from nowhere, Les missed the 1st, hit the 2nd dead centre & set off over the bars as the 3rd clouted his rear wheel sending him & bike into a twist. The landing wasn't pleasant & Les was definitely not with us for a few minutes. We regrouped & took a time out & thankfully Les appeared to just be very bruised with nothing broken, a very lucky escape. An excellent ride & thanks to Les & Stuart for guiding us, we are already planning something again for next year but maybe not so EPIC the day before a race.
The Enduro came & went, so did the Friday kids races & soon it was 7pm & time to give away some free beer, yes I did say FREE. I always love this part & it amazes me how many people try to pay. This time our Dutch friends helped out while Judy ran the Beerbabe stand, they picked up the real ale patter really quickly - 'We have the IPA, light & hoppy, the Wheat beer, light & refreshing & the Jail Ale strong, dark & fruity'. 1h30m later we had done 3 full casks, well over 200 pints.
Race day dawned & the weather was OK but there were weather warnings out for some rain but more importantly high winds. My 1st job, rack the next 3 casks of delicious Dartmoor beer in time for it to settle for the finishers of the 12 hour race. More kids races & then it was time to start what is now for Team Beerbabe just a little bit of fun as it's impossible to race, man the stand & serve beer all at the same time.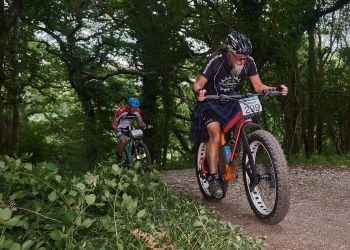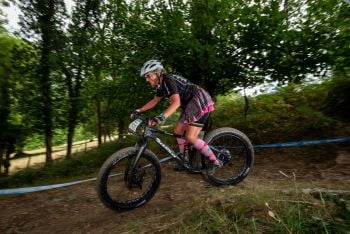 I did a couple of laps in the dry for some #fatbikefun, Jasper & Martijn were lying 2nd in the 24h Mens Pair while Jolien was 3rd Solo Lady. After a leisurely change over Judy went out & did a couple of fun laps which culminated in an OTB moment in the arena in front of everybody !!!
By the time I'd finished my next lap the wind had seriously picked up & tried to dismantle the Beerbabe stand so the next few hours were spent sorting that out.
The predicted rain arrived around 8pm but the wind dropped a little but there was to be no more laps for us as we slipped into support mode for Jasper & Martijn. Jolien had stopped by now with sore knees, she had taken part in a 4 day, 200km walking event the previous weekend ! It was soon Midnight & time to serve beer again to some soaked riders finishing the 12 hour race as the hardy Torchbearers started !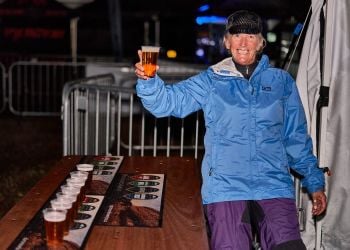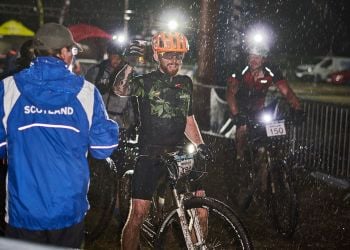 Jasper & Martijn pulled the plug around 3am after 7 hours of rain & we retired to the tent. I awoke to a commotion at around 6.30am as the signing on marquee came down following a 65km gust of wind. After that it was a case of survival in some huge gusts of wind. Thankfully we managed to keep the Lakebike24, Beerbabe & Dartmoor Brewery E-Z UPs intact.
The race was called somewhere between 7-8am for safety reasons mainly due to the wind, but yes it was still raining. Prize giving was at 10am after which most folk headed home but not us we stuck it out to the bitter end. The rain finally stopped & the 5 of us headed up to the Miners Arms, Hermondon with Matt, Paul & his lovely wife for a super early evening meal & a few more beers, Dartmoor of course.
That was No 13, & number 12 for us, was it the best Pivot Twentyfour12 yet ? Well there were some great bits for sure, the best course ever ? Well by linking the Bluebell Woods downhill, the correct & full run through the Bomb Holes & Cottage Return in that order makes it nothing but fun, fun, fun so for me a big fat yes. Food vendors were fabulous with a great mix no matter what mood you were in. Beer, Dartmoor Brewery did us proud again with some stunning local beers. The vibe of the whole event was fabulous. The weather ! well what can you do about that ? Nowt ! 9 weeks of sun broke over the weekend for just enough time but hey it's an outdoor sport after all. However with numbers down what does the future hold ? for me there will always be a place for 24 Hour races but the cost of putting them on especially in the UK must bring them into question look at Mountain Mayhem, will it return... Watch this space.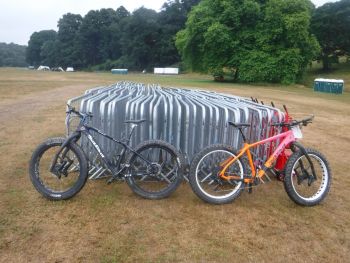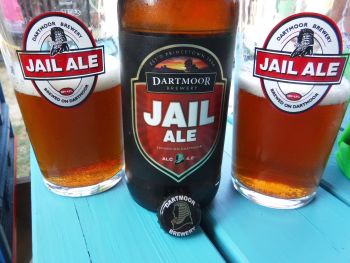 Finally well done Paul & Matt it was a pleasure to do our little bit ????
Don't just take my word for it, check out some amazing photos of the action via these links (opens in a new page):